Harp-5
Mobile LIN and CAN-Bus simulator with display and keyboard
The HARP-5 is a PC independent handheld device for simulation of LIN and CAN buses. With the powerful battery and the integrated 12V generator, you can read out location-independent LIN and CAN bus signals and log the data. In addition, simulations and error analyses can be saved in macros, which can then be individually selected and executed by the device.
The delivery of a HARP-5 system includes the following components:
HARP-5 device
16 GB SDHC card (already installed in the unit)
Set of 6 rechargeable batteries (already installed in the unit)
Charger (24 V, 1.25 A), with shockproof connection for the EU
A 6-pole plug with screw connection (MC 1.5/ 6-ST-3.81)
Download licence for LINWorks suite (includes LINWorks PC software, USB drivers, sample files and documentation)
Price: 1.869 € net plus shipping for EU / outside EU: please request quotation from us
Request offer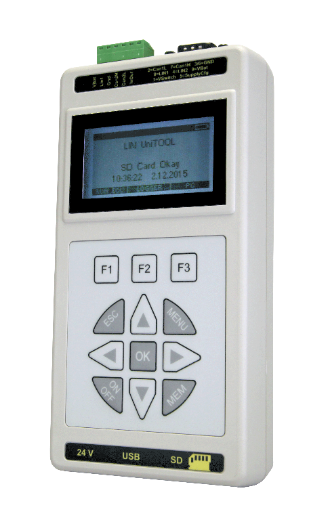 Performance overview
Application areas
Mobile and PC-independent simulation tool with own LIN bus power supply
Can be used for ECU testing, automatic test systems and fault analysis directly at the customer's premises
Easy demonstration of LIN and CAN products for the distribution
Read out bus signals in real time, change signal values and start and stop macros via the keyboard
Hand-held remote control for units with LIN or CAN bus interface
Data logging function possible at 100% bus workload
Technical function
Supports all LIN bus versions from 1.2, to 2.2
12-digit membrane keypad with 3 freely programmable function keys
Removable 16GB SD card for SDF files and log data
Display with 128x64 resolution for presenting the freely configurable menus
CAN high-speed, CAN low-speed and 2.LIN interface can be enabled via activation options
Integrated 12 V generator (150 mA) for supplying LIN nodes
Battery operation with a runtime of up to 10 hours
Compatibility and system requirements
Windows 7/8/10/11 (32/64 Bit)
Interface to the DLL library for:
Windows (x86 & x64), PC based Linux (x86 & x64), ARM based Linux (x86 & x64)
Native programming for C/C++ as well as via wrappers in .NET languages, Python, VB6 and LabView are possible
PC-SD card adapter required to transfer the SDF files and log files
.
More helpful files available with login:
HARP-5 User Manual
LinWorks-PCSoftware_CD
Firmware update package
See the downloads
More interesting products: